Easter is here and so are Hot Cross Buns!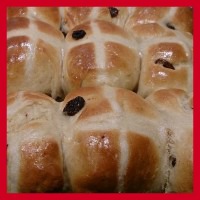 Mmmmm.....every bakery that I pass at the moment is brimming with the delicious aroma of Hot Cross Buns. They are so scrumptious and warming at this time of year.
Lucky for us, Hot Cross Buns are actually quite easy to make yourself at home. When you make it yourself, YOU control what goes into them, including sugar.
Reducing the sugars in your life does not have to mean missing out on your favourite foods. You just need to modify them. With my new Hot Cross Bun recipe, I have done all the work for you (including a few versions that turned out ALL WRONG). Just follow the instructions to enjoy your very own home-baked and superfresh Easter Buns.
Show me the Hot Cross Buns Recipe now!
I hope you enjoy these delicious buns as much as I do!
May you have a great Easter,
Felicity
easy-sugarfree.com
---