Sugarfree Ginger Biscuits
Ginger biscuits are a favourite of mine. I like them crunchy and very gingery! Now that I don't buy biscuits from the shops I needed something to fill the ginger gap in my life. There is no way I am going back to sugar-based biscuits!
These homemade biscuits are so easy to make and last really well in the biscuit tin. One batch lasted us two weeks before they were all eaten and they were still crunchy.
You can easily adjust the ginger amount to suit your taste: just add more or less than the recipe calls for.
Crunch is a different matter. I have yet to create a "gingernut" style biscuit that is as hard as commercially available ones. I believe this is due to commercial processes though, not just the choice of sweetener.
Ginger Biscuits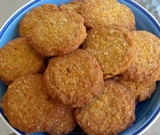 1 1/2 cups wholemeal plain flour
1/2 cup desiccated coconut
1 cup dextrose powder
1 tablespoon ground ginger
140g butter
2 tablespoons glucose syrup
1/2 teaspoon bicarb soda
Preheat oven to 170 degrees Celsius.
Melt butter and syrup in a small saucepan. Remove from heat, mix in soda and allow to foam.
Combine all dry ingredients in a bowl. Mix in butter mixture. The mixture will be crumbly but hold hold together when squeezed into balls by hand.
Place balls onto greased or lined trays, leaving room for spreading, and bake for about 15 minutes at 170 degrees Celsius.
These easy biscuits will be soft when first taken out of the oven. Allow to cool slightly on the trays, then transfer to wire racks to finish cooling and hardening up.
You may have noticed some similarities between this recipe and the Anzac biscuit recipe.  They are very closely related and both are super easy to make.
Gingerbread is the obvious choice for ginger lovers, and a Christmas favourite too. You don't have to leave it for once a year when you bake your own.
Gingerbread Cookie
135g butter, softened
1/2 cup dextrose powder
1/2 cup glucose syrup
1 egg yolk
2 cups plain flour, sifted
2 tablespoons ground ginger
1 teaspoon ground cinnamon
1 teaspoon Bicarb Soda
Preheat oven to 170 degrees Celcius.
Beat butter and dextrose in a bowl with electric mixer, until light and creamy. Beat in egg yolk and glucose syrup.
Use a wooden spoon to fold in combined flour, spices and bicarb soda. Knead lightly until a smooth dough has formed. Shape into a disc and cover with plastic wrap. Chill in the refrigerator for 30 minutes.
Divide dough in half and roll out between 2 pieces of baking paper until about 5mm thick. Cut out shapes with cookie cutters. Repeat with the other half of the dough. Space cookies out on trays (they will spread a little).
Bake at 170 degrees Celcius for approximately 10 minutes or until lightly coloured. Allow to cool on trays a few minutes then transfer to a cooling rack. The gingerbread cookies will harden on cooling.
I may receive a commission from product links in this post. See my Privacy Policy for more information.