Sugar Free Cake - why go without CAKE?
Sugar free cake that is moist and delightful is actually quite easy for the home cook. You don't need fancy equipment or weird ingredients. Many people substitute with stevia products but personally, I can't handle the metallic after-taste!  Stevia will certainly give you fewer calories in your cake. However, if you are really after taste rather than eat cardboard, you can't go past dextrose as a sweetener. It is natural, used by every cell in your body, and without the excess fructose contained by sugar.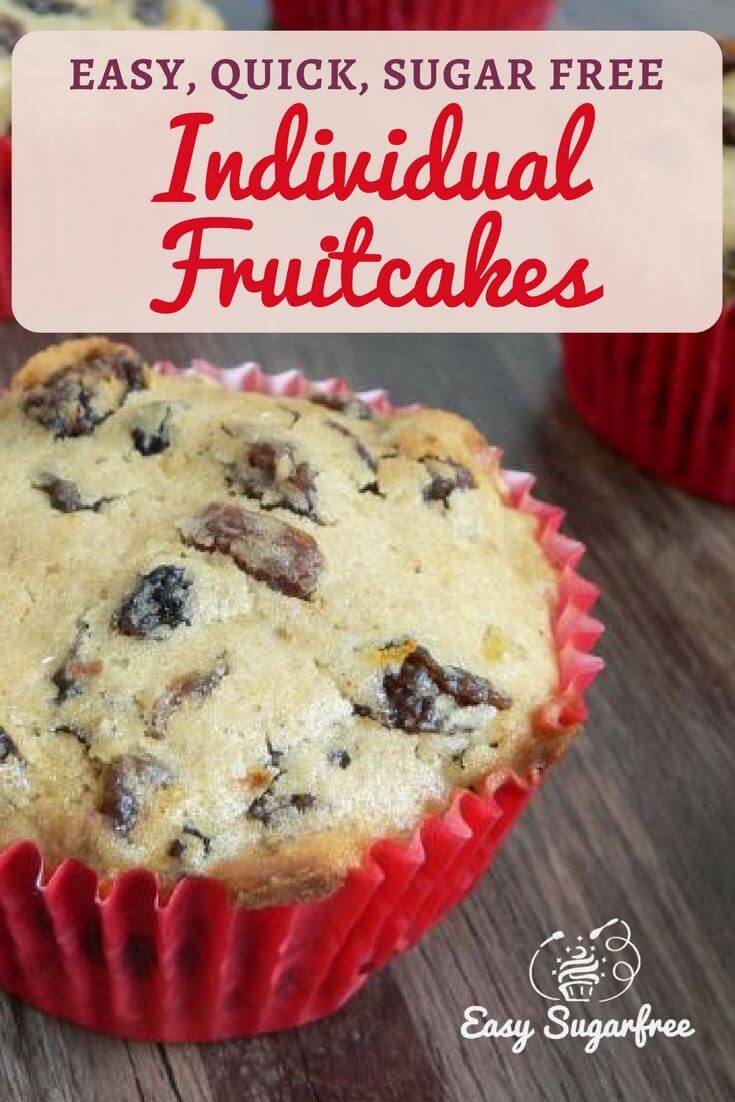 I've already shared a number of sugar free chocolate cake recipes and cupcakes recipes. So here I want to share with you some fruitcake recipes.  I can already hear the objections "That's not low sugar, it's full of fruit!"  Yes it is. Wondrously gorgeous natural fruit. Yes fruit has naturally occurring sugars, along with naturally occurring fibre that helps us to digest it well.  Fruitcake recipes are naturally higher in calories/kilojoules. So don't choose these if you are dieting to lose weight.  However, if you want to make fruitcake but would like a lighter variation then this is the recipe for you.

Individual Fruitcakes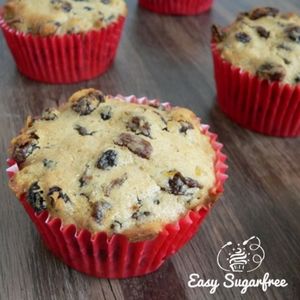 345g sultanas
125g raisins
60g currants
60g mixed citrus peel
60g glace cherries
1 tablespoon marmalade
1/2 cup brandy or rum
Mix fruit, marmalade and alcohol in a large bowl. Set aside to soak (the longer the better but at least 1 hour).
125g unsalted butter, room temperature
1/2 teaspoon orange rind
1/2 teaspoon lemon rind
1/2 cup dextrose
1/2 tablespoon rice malt syrup
2 large eggs
Beat butter, rinds, dextrose and syrup in a small bowl with an electric mixer until just combined. Beat in eggs, one at a time, until just combined.
1 cup plain flour
1/2 teaspoon mixed spice
flaked almonds (to decorate, if desired)
Stir butter mixture into fruit mixture until well mixed together. Stir in sifted flour and spice. It will be a thick and sticky batter.
Divide the batter between 12 medium cupcake papers. Bake at 160 degrees Celcius for 30 minutes.
Sugar Free TeaCake
This sugar free cake recipe below produces a simple tea cake that is incredibly fluffy and light. It tastes lovely made with apple or pear slices for a lightweight cake to have with your morning cup of tea (hence the name "tea cake"). 

Sugar Free Cake - Apple Tea Cake Recipe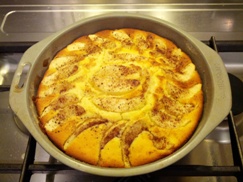 70g Butter, softened
1 large egg
1/2 cup dextrose
1 cup self raising flour
pinch of salt
1/2 cup milk
1 apple: peeled, cored and sliced
nutmeg and dextrose to sprinkle
Cream the butter and dextrose with an electric mixer. Then add the egg and mix until combined.
Gradually add the flour and milk alternately, along with the salt.
Pour into greased round cake tin. Decorate the top with the apple slices and sprinkle with nutmeg and extra dextrose.
Bake at 170 degrees Celsius for 30 minutes. Cool cake in tin, before turning out onto cooling rack. Enjoy with whipped cream or sugar-free custard.
Perhaps you would like an even easier fruit based cake? Why not try this super easy date loaf?
Sugar Free Date and Walnut Loaf
By Felicity Mullette, October 20, 2017
A dense and fruity loaf perfect to have with a cup of tea.
Prep Time: 15 minutes
Cook time: 40 minutes
Yield: 1 loaf

Ingredients
300g pitted dried dates
2 cups of water
2 eggs
80g butter
300g self-raising flour
2 teaspoons ground Allspice
100g walnut or pecan pieces
A splash of milk
Instructions
Preheat oven to 170 degrees Celcius.
Soak the dates in the water in a small saucepan over low heat. Set aside to cool.
In a separate bowl beat your butter with an electric mixer until creamy, then add the eggs and mix to combine. Stir in your walnuts, flour and Allspice. Add your softened dates and water, plus a splash of milk, and stir to combine.
Spoon into a greased loaf tin (23cm x 13cm x 7cm) and bake for about 40 minutes at 170 degrees Celcius.
When ready the loaf should spring back when touched on the surface. Leave to cool, then slice and serve spread with butter.
I may receive a commission from product links in this post. See my Privacy Policy for more information.