Sugar Free Oatmeal
Raisin Cookie Recipes
Oatmeal raisin cookie recipes are loads of fun to make with my son.  There is a lot to measure out and mix together.  He likes to scoop out the flour, then I level it with a flat knife and he pours it into the sieve then jiggles it to sift into the bowl. He's not keen on cracking the eggs himself though, since one time the egg splattered all over the table when he cracked it too hard!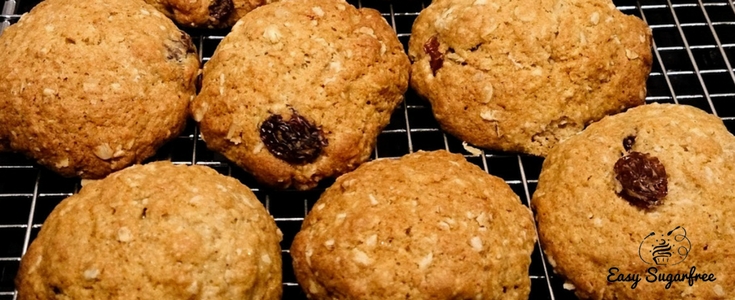 You can whip these oatmeal raisin cookies together in about 15 minutes if you aren't slowed down by children. So you can have cookies all done within half an hour of starting - how easy is that!
Oat & Raisin Cookies
2 1/4 cups plain flour
1/2 teaspoon cinnamon
1/2 teaspoon salt
1/2 teaspoon bicarbonate soda
1/2 teaspoon baking powder
1 cup unsalted butter, softened
2 cups dextrose
2 large eggs
2 teaspoons vanilla essence
2 tablespoons water
2 cups rolled oats
1/2 cup raisins
Sift together the flour, cinnamon, salt , baking powder and bicarb soda into a large mixing bowl.
Cream the butter and dextrose together with an electric mixer until light and fluffy. Add the eggs, vanilla and water and beat well until combined.
Fold in the flour mixture and the oats and raisins until well mixed through.
Drops tablespoonfuls on a lined cookie sheet about 12 to each sheet.
Bake at 180 degrees Celcius (350F) for 12 minutes. Cool on racks. Then eat! They can be stored for ages in an airtight container.
I may receive a commission from product links in this post. See my Privacy Policy for more information.